Born to be a Winemaker
Balázs Káli, a young and talented winemaker from the Balaton Uplands is a real local producer. He knows the characteristics of every vineyard in the Káli basin – what kind of grape fits there the most and he is also able to bring out the maximum taste effect from the grapes. For him, vines come before all else: it is a pleasure to walk through the beautifully cultivated rows of vineyards in the best locations of the village.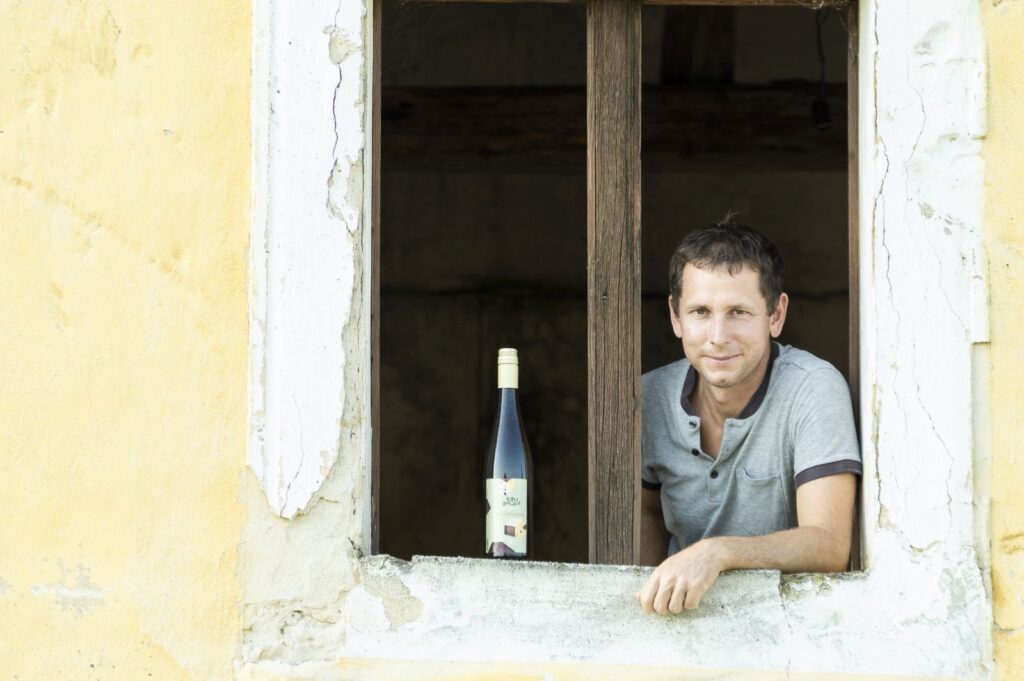 "Our target group are consumers who appreciate wines with unique flavours and fruitiness,
wines that reflect the characteristics of their terroir."

Balázs Káli, Owner & Winemaker
Our Winery in a Nutshell
Owner: Balázs Káli
Winemaker: Balázs Káli
Area Under Wine: 10 ha
Number of Bottles Produced: 20 000 – 25 000
Year of Foundation: 2007
Vineyards: Fekete-hegy, Farkastető, Magyal-tető
Main Varieties: Olaszrizling, Chardonnay, Szürkebarát, Tramini, Irsai Olivér, Pinot noir, Kékfrankos
Wine Type: White, Rosé, Dry
Wine District: Balaton Highlands
Wine Region: Balaton
Our Terroir Wines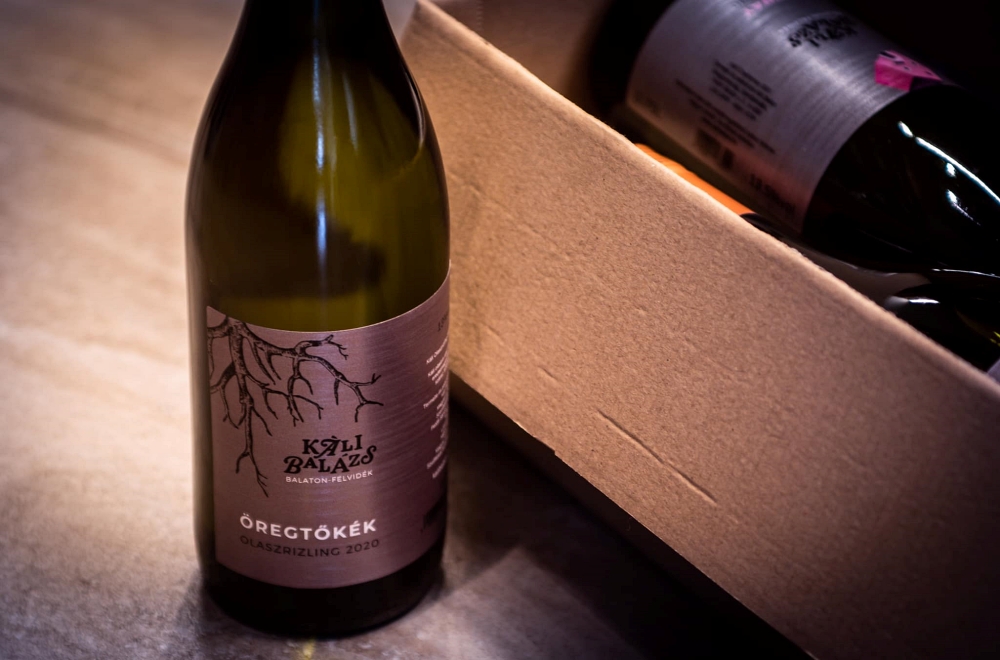 Our wines have a clean, elegant, complex aroma and taste. In addition to the fruity notes, they typically show the mineral flavors of our unique terroir, accompanied by vibrant acids.
As a Balaton winegrower,
Welschriesling (Olaszrizling

) is a priority, as it best reflects the character of the Káli Basin and, within it, the largest volcanic witness mountain, the Fekete-Hill. Two separate categories of Olaszrizling are produced every year: a rich estate wine and a special Old Vines selection.
Welschriesling
Estate wine
Straw yellow in colour. The nose immediately reveals the character of the terroir: primary green-apple fruitiness is accented by slight crayon, earthy notes. On the palate, attractive Mediterranean citrus, mostly tangerine and grapefruit, bright acidity and slightly creamy texture. It finishes relatively long, with a subtle bitterness typical of the variety. An excellent gastronomic wine, thanks to its discreet residual sugar content it pairs well with quite a wide spectrum of dishes, from semi-hard cheeses and cabbage dishes to delicately spiced white meats.
Welschriesling
Old vines selection
A Balaton Uplands classic, with flavours recalling the largest basalt mountain in Hungary. On the nose it has green apple, white flesh peach, wild flowers and a hint of vanilla. The grapes were grown on the volcanic Fekete Mountain, and the wine expresses its typical characteristics: the acidic, greenish and salty nuances of the greasy black earth and clay, and the basalt. It is a round, flavoursome wine with a subtle grapefruit bitterness and a lingering saline notes.
Töttöskál cuvée
Light & Fruity
Balázs Káli's new blend beautifully conveys the diversity of the vineyards, with flavours and aromas merging into a harmonious whole. In France, it would be called a village wine, Töttöskál was the name of an old, Árpád-era village, which has disappeared by now, but this is where the winery's vineyards are located. The blend is based on Chardonnay (50%), complemented by Szürkebarát, Olaszrizling and Gewürztraminer. It is characterised by a rich, delicate citrus nose, a refreshing palate, with intense elderflower and fruit notes and a medium-long finish.
Chardonnay
Complex & Food-friendly
Light golden wine. The nose is dominated by fruit with hints of kiwi, apple and ripe peach and this is complemented by flinty, sea-salty notes. Citrusy palate with a brisk acidity and a medium-long, mineral finish. Recommended with grilled fish and vegetables, fatty cheeses, poultry and sweet potatoes.
Pinot gris
Old world style
The nose of this lemon-coloured wine reveals notes of pear, oily seeds and crayon, which are accented with spicy notes over time. The palate is full-bodied, driven by bright acidity. A juicy wine with pear flavours and a citrus finish. Recommended with lightly spiced white meats, creamy pastas and risottos.
Contact Us
Name: Balázs Káli, Enikő Káli
Email: kalipince@gmail.com
Phone: +36 30 497 9391
Location: Szentbékkálla, Petőfi Sándor str. 3.